School Uniform
We believe uniform is not only practical but also gives the children a sense of identity and belonging to our school. Our school uniform comprises the colours of green and purple on a grey or white base. School crew and v-neck sweatshirts, cardigans, fleeces, jackets, polo neck shirts, t shirts, book bags and P.E. bags can be bought from our supplier as detailed below. Please ensure that all clothing is marked with your child's name.
We recommend sensible black shoes for general wear. Children can wear light sandals in the summer, but not open toed sandals, for practical reasons. Trainers should not be worn in school.
Your child will also need a white t-shirt, black shorts and a pair of black plimsolls or light trainers for outdoor games and a P.E. bag to keep the kit safe. In the winter children should bring jogging bottoms and a top for outdoor P.E.
Jewellery is neither practical nor safe for school wear, and must be kept to a minimum. Plain earring studs and a watch are acceptable, but earrings must be removed by the child for P.E.
If your child brings personal items to school they are responsible for these items.
Embroidered school uniform can be purchased through our supplier at www.michaelhope.co.uk
For more information our school uniform policy can be found by clicking on the "About Us" tab, and then clicking on "Policies".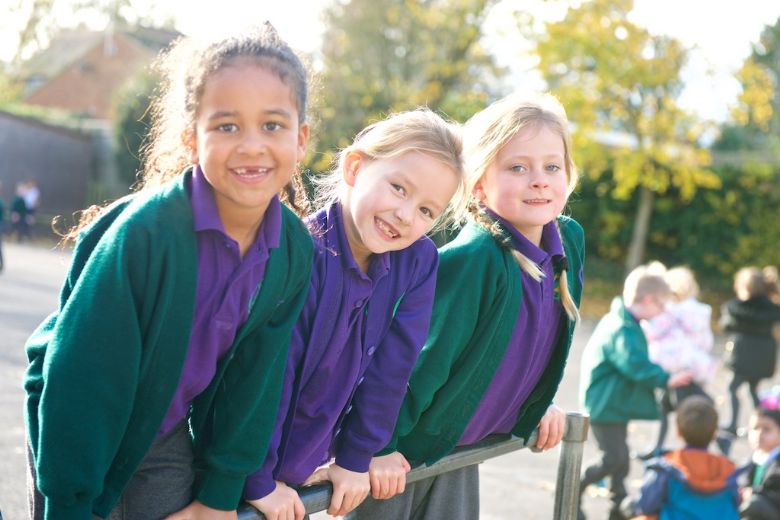 School Uniform
Purple or green sweatshirt or cardigan
White shirt/blouse or white or purple polo shirt
Grey knee length skirt or culottes or pinafore (no more than 8cms above knee) or tailored grey trousers with grey socks or grey tights
Purple/white or green/white checked dress/shorts (gingham style) with white socks
Grey tailored knee length shorts with grey socks
Purple or green zip fleece - optional
Reversible Green Waterproof Jacket - optional
Black Shoes (not trainers or canvas) or Closed Toe Summer Sandals
PE Kit
Black Shorts
White T-shirt
Plimsoles (indoor)
Trainers (outdoor)
Black tracksuit/jogging bottoms
Additional items
PE drawstring bag
Bookbag with logo
Old shirt for Art lessons