Governor Profiles
Lorraine Doyle (Chair) - Co-opted Governor
Lorraine joined the Governing Board as a parent governor in 2002 when her eldest child started at Downsway. She became Chair of Governors in 2008. She is also Chair of Governors at Denefield School, a secondary Academy school where many Downsway children move on to for their next stage of education. She is also a member of the Interim Executive Board of Phoenix College, an SEMH (Social, Emotional, and Mental Health) Special School in Reading.
Lorraine is also a National Leader of Governance. She is also a member of the Institute of Chartered Accountants for England and Wales and worked for PWC Reading as a Corporate Tax manager before having children. In her spare time Lorraine volunteers for Age UK.
Dorothy West (Vice-Chair) - Co-opted Governor
I was responsible for teaching A Level Theatre Studies at one of the largest comprehensive schools in Berkshire for almost twenty years.
After being retired for a few years I volunteered to be a school governor. On a visit to Downsway, I knew it was a very special school and was very happy to become involved. I am now vice-chair and have been literacy governor but am now involved in the wider governing of the school. I particularly enjoy being involved in school productions and the year six productions of 'Midsummer Night's Dream' and 'Hamlet' have been a highlight for me.
Katie Ayres - Headteacher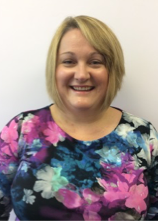 I graduated from The University of Reading in 2003, with a 2:1 Honours Degree in Education (QTS) and Music. I began my teaching career at a primary school in Reading, where we gained two outstanding Ofsted inspections. During this time I became an Advanced Skills Teacher (AST) where I supported local primary schools in improving the quality of teaching and learning.
In 2008 I gained my first Deputy Headteacher post at a large multicultural school in Slough and then later on in my career joined a primary school in Tilehurst as Deputy Headteacher. I have taught in all year groups, passed the National Professional Qualification for Headship (NPQH) and I am a Specialist Leader of Education (SLE). I feel very privileged to take on my first Headship at Downsway Primary School.
Madeline Fyans - Local Government Governor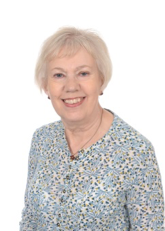 After studying Modern Languages I trained as a teacher and worked for more than thirty years in the secondary sector. Prior to my retirement I was Head of Department at a girls' comprehensive school in Maidenhead. On the governing board, I am currently responsible for Safeguarding, PPG, SEND and Science.
I am now in my second term of office and continue to find the role both interesting and rewarding.
Dr Adam Greenhalgh - Parent Governor
Adam is currently a software engineer working for Cisco on a global phone system. He initially trained as a research scientist at University College London and completed his PhD in mobile networks at UCL in 2012.
Adam has one son at Downsway. As a governor he takes a particular interest in policies and procedures and compliance issues.
Mark Woodruff - Co-opted Governor
Mark is a Fellow of the Institute and Faculty of Actuaries (IFoA) and a qualified Financial Adviser. He is currently Senior Actuary at St. James's Place Wealth Management having previously worked at Prudential and Aviva. Outside of work Mark is also Deputy Chair of the IFoA's Pensions Research Committee. Mark's has two children. Cameron who will be joining Downsway in September 2017 and Charlotte who is still at nursery.
This is Mark's first Governor role and he hopes to enhance the Board's skill set through his technical, strategic, project and commercial experience in the financial services sector. His interests as a governor are finances and performance metrics, though he is comfortable with any governance area. Outside of work and governance, Mark is an avid runner, keen walker, improving squash player and golfer who never can find the time to play!
Paul Barter-Walsh - Parent Governor
Paul was elected as a parent governor in October 2017 after his son joined Downsway in the Foundation Stage. Being a CIMA qualified accountant, Master of Mathematics and with over 20 years in leading finance teams, he is hoping he can help shape and nurture the future for the school. Currently he is a Financial Controller for a UK branch of a multinational corporate, based locally.
He is passionate about education and believes that we can always do better. We have a fantastic base of educators and equipment here at Downsway and he looks forward to bringing new and challenging ideas to the fore.
Danni Rackley - Staff Governor
I graduated from Bath Spa University in 2013 with a degree in Education Studies with Geography. I then spent two years gaining experience as a teaching assistant in Foundation Stage at Downsway before gaining my Qualified Teacher Status via a Postgraduate Certificate in Education at Reading University in 2016. I spent the majority of my training based at Downsway, teaching in both Year 2 and Foundation Stage. Following my qualification I have spent the last two years teaching in the Foundation Stage and I am thoroughly enjoying my third year there now. This year I have also become the Phonics Co-ordinator and am enjoying a new challenge in this role.
Downsway has played a significant role in making me the enthusiastic, well-motivated and ambitious teacher that I am today and I am eager to continue to learn and grow in an environment I feel so passionate about. Through joining the Governing Board I am looking forward to becoming more involved in the school.
Carol Flach - Clerk to Governors
Carol has been clerk to governor at Downsway since 2011; she is also clerk to governors at Denefield secondary school and undertakes the clerking role to the Executive Committee at St Mary and All Saints primary school.
Carol's background is in international development and research having worked for CfBT Education Trust for over eighteen years supporting and developing education projects in Africa, Eastern Europe and the Caribbean. She works part time for a youth development charity supporting youth exchange and volunteering programmes in Africa and South America.
Carol has completed the National Clerks' Development Programme with the National College for Teaching and Leadership and is currently completing the Accredited Clerks' Programme with West Berkshire Local Authority.