Foundation Stage News
Here you can find out about what we have been learning and what exciting things we have been doing in school.
Water Fight
We enjoyed our water fight this afternoon - it was nice to feel cool for a little while!

A lovely end to a lovely week...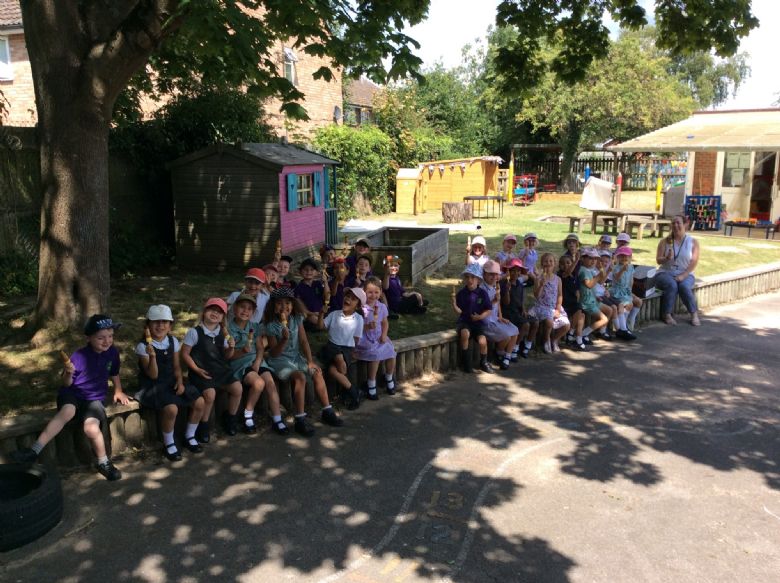 Biscuit Sale
Thank you for all of your support with our Biscuit Sale. We raised £108 to go towards our coach to 4 Kingdoms next week.
New Mud Kitchen!
We are loving our new mud kitchen that Mr Clark has made for us. Thank you again for all of the utensils you donated towards it.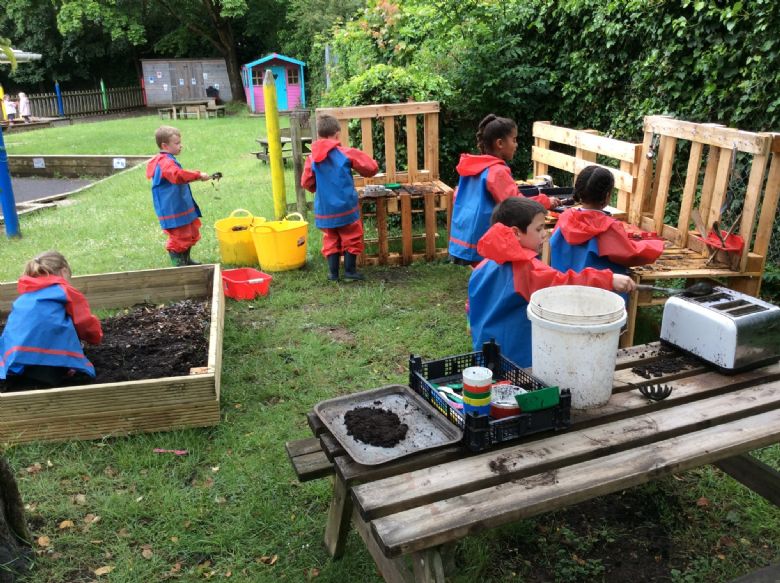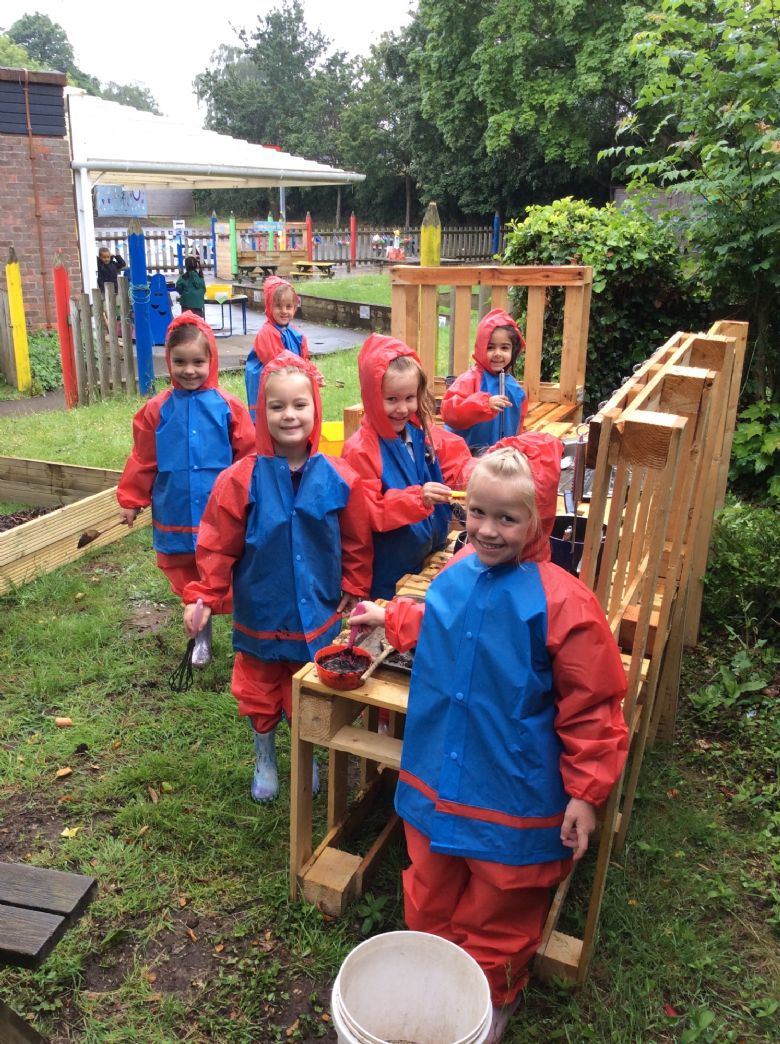 Somebody Swallowed Stanley
In Foundation we have been focusing on the story 'Somebody Swallowed Stanley'. During the book we learnt about how plastic can be really dangerous to animals in our oceans. We decided that we could do our bit to help and as a class made posters, signs and a video. Over the past week we have also been collecting some of our plastic waste from home and used it to create some artwork. Linked to this we thought about recycling and how materials can be re-used to make new things. Take a look at our photo albums for some pictures...
New Life
We have some more new life growing in our classroom. Our caterpillars have turned into chrysalis and our frogspawn has turned into tadpoles...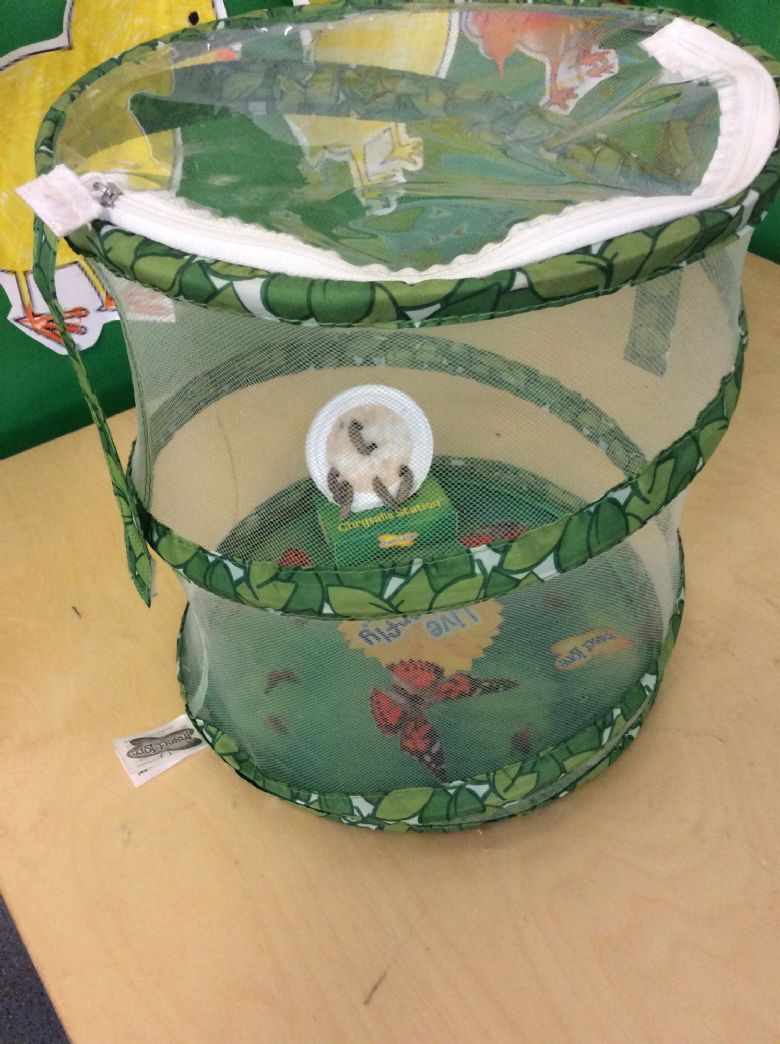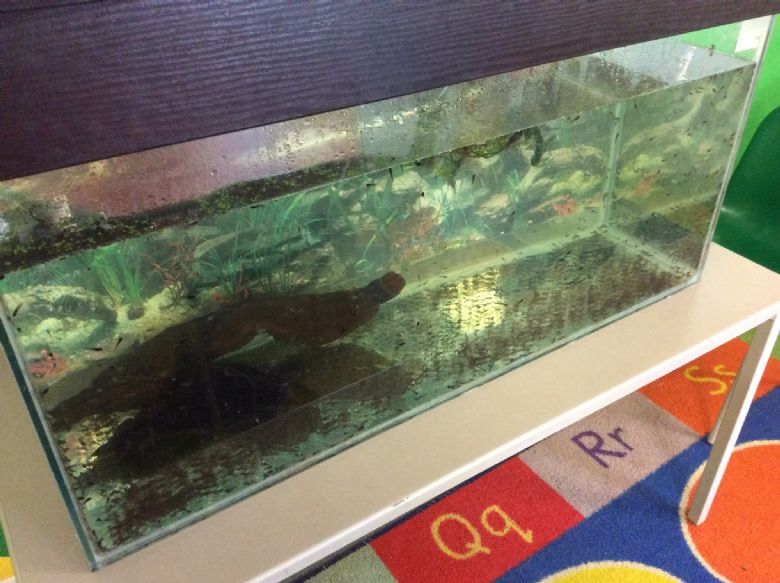 Lifecycle of a butterfly
We have been learning about the lifecycle of a butterfly - we even have our own caterpillars in our classroom. For our learning log task we were asked to create a part of the lifecycle of a butterfly. Look at all of our fantastic work...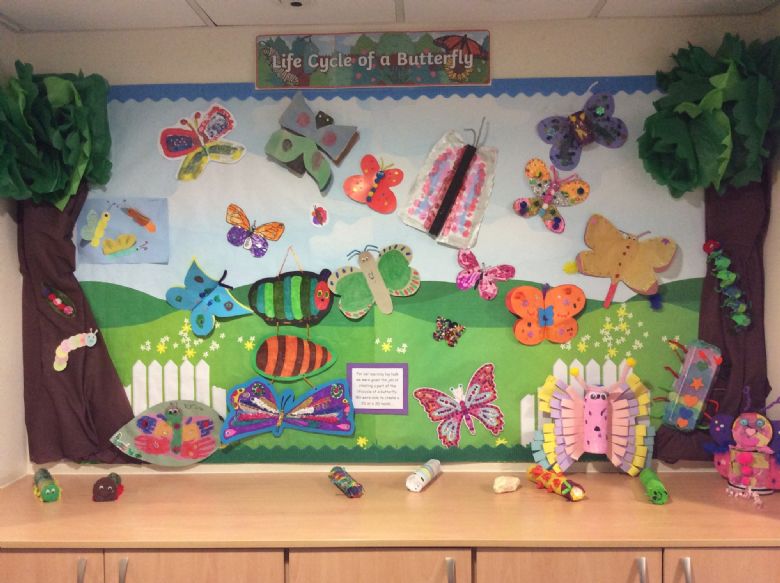 Volcano Experiment
Today to start off science week we made our own volcano. We put baking soda, water, soap and food colouring into the volcano. We talked about what might happen if we added vinegar. We then added the vinegar and the volcano erupted!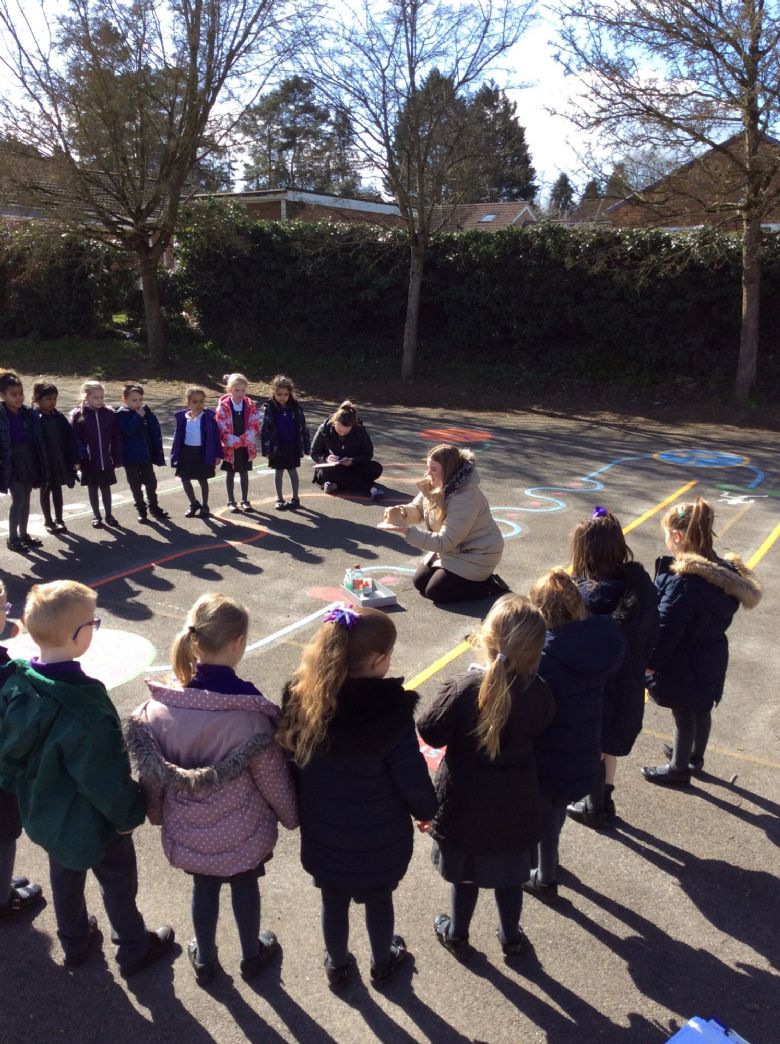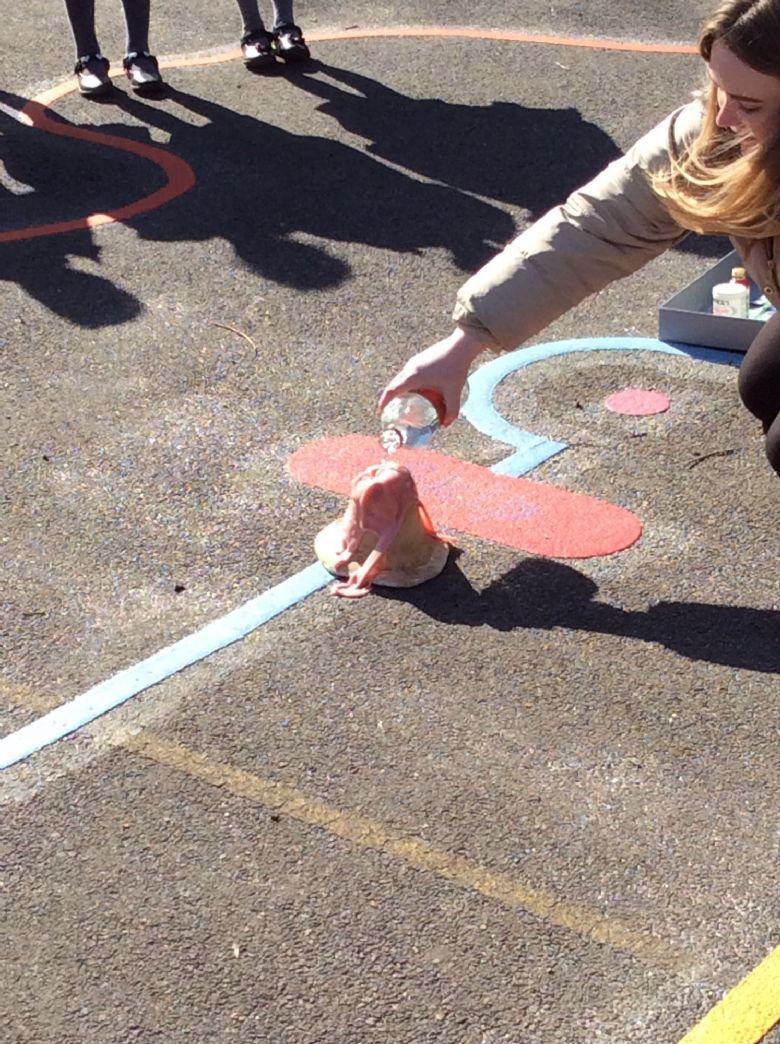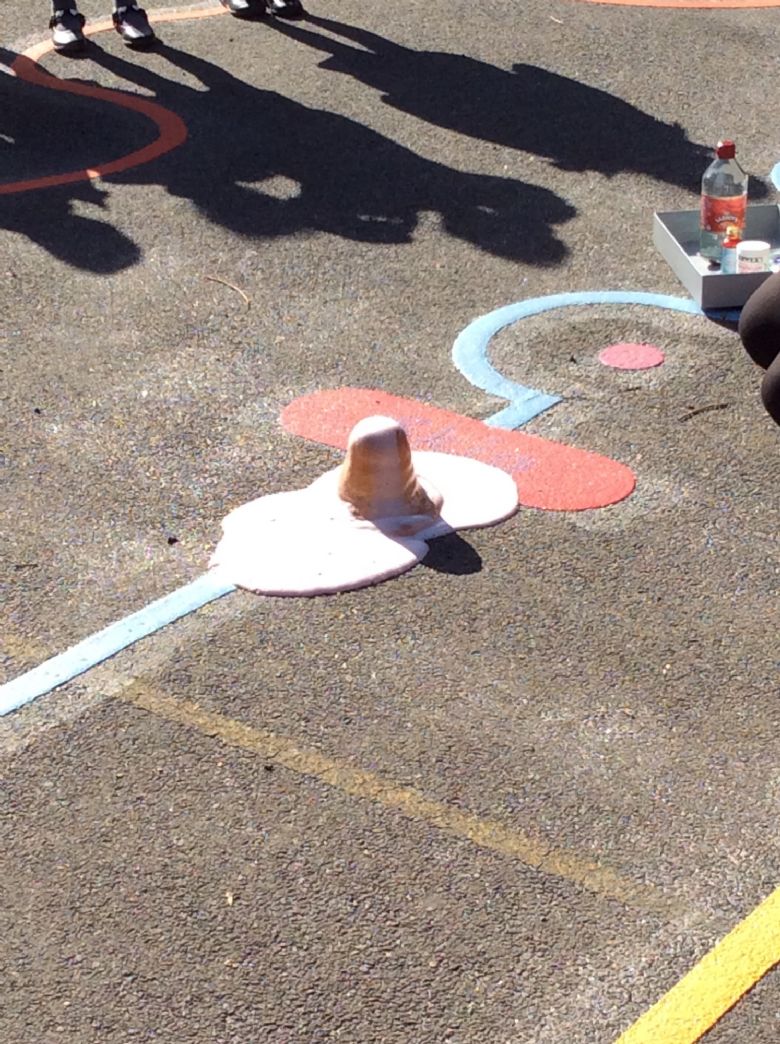 Maths
This week in Maths we are learning about addition. We recapped the kung fu moves for add and equals and then used concrete objects to help us to find the answer. We did some finger printing, used pom poms and unifix cubes. We had to count out the numbers in the number sentence first and then pushed them together and counted them to find the answer.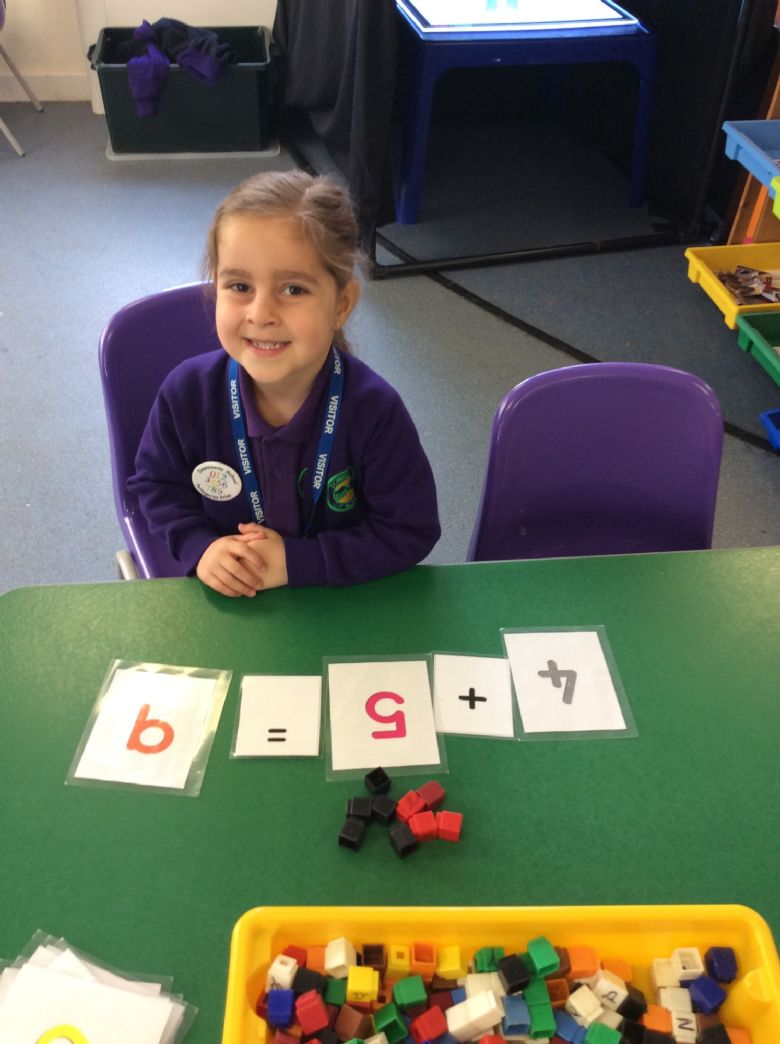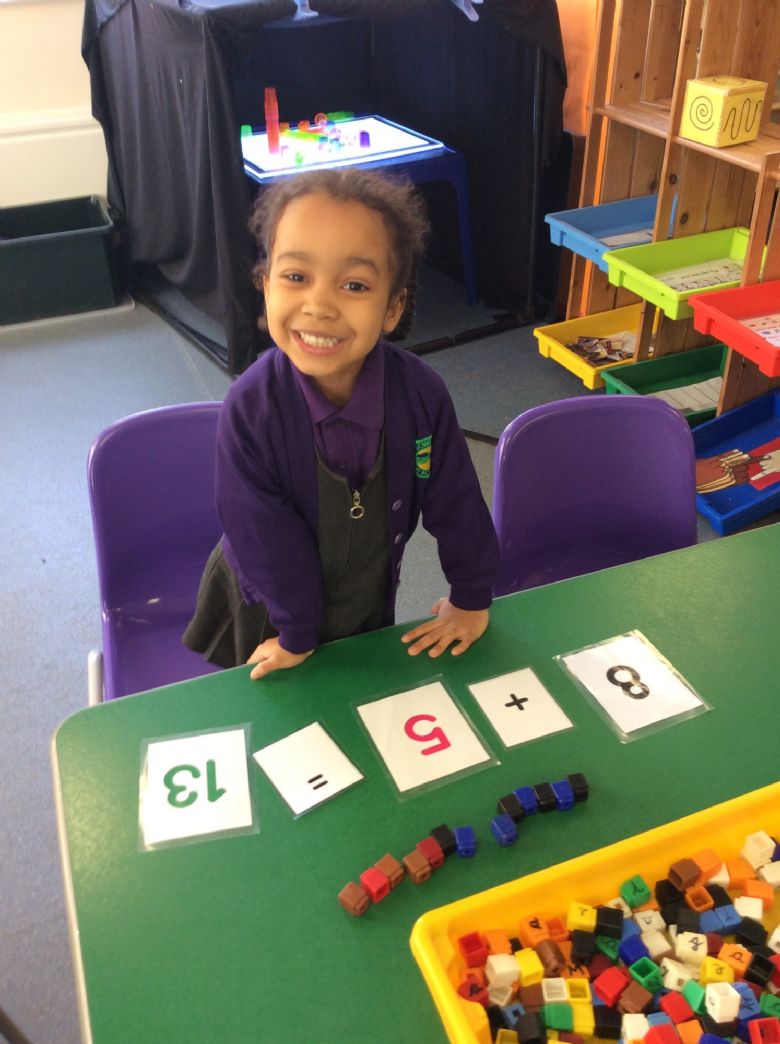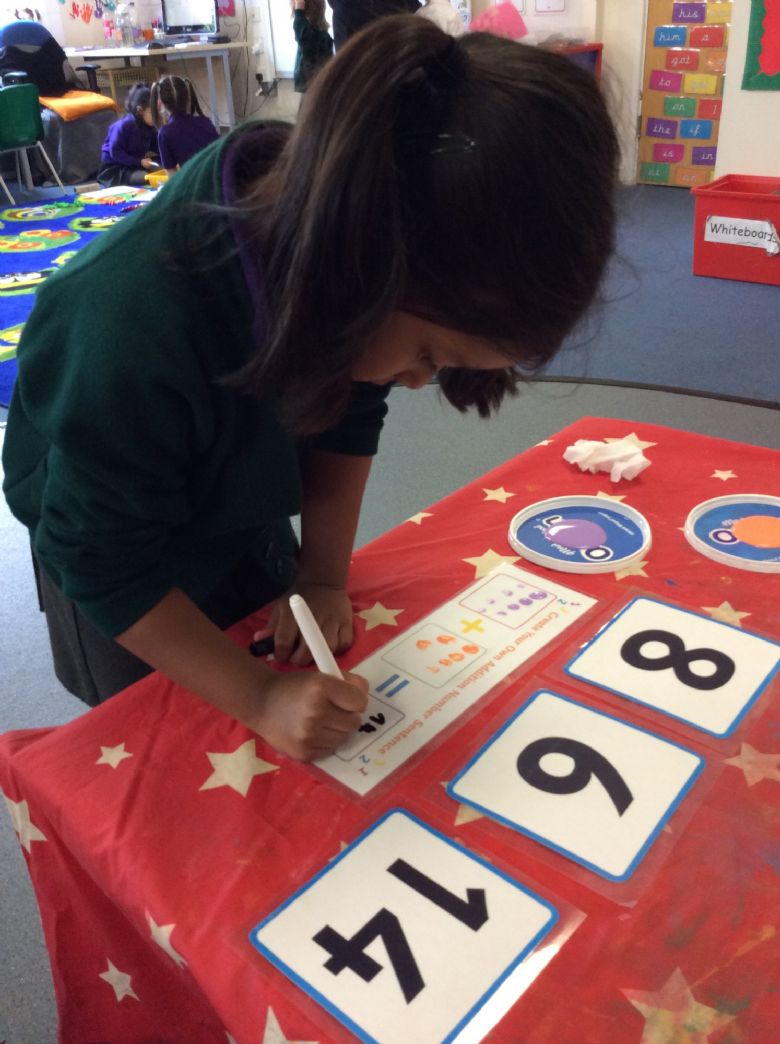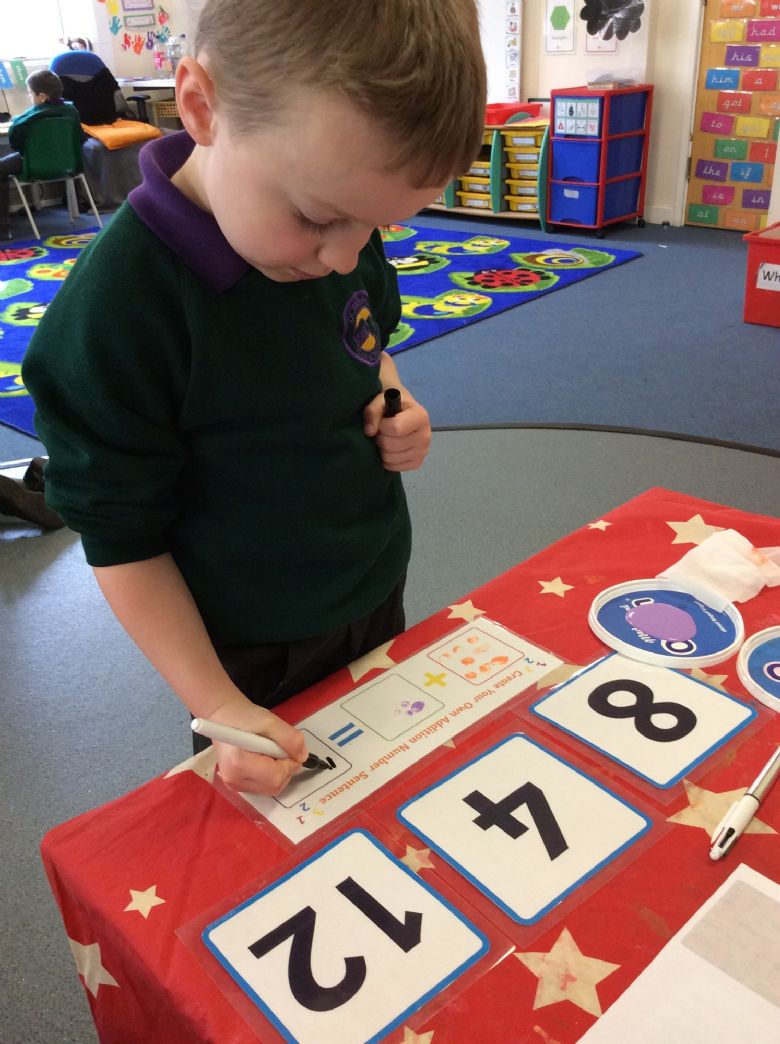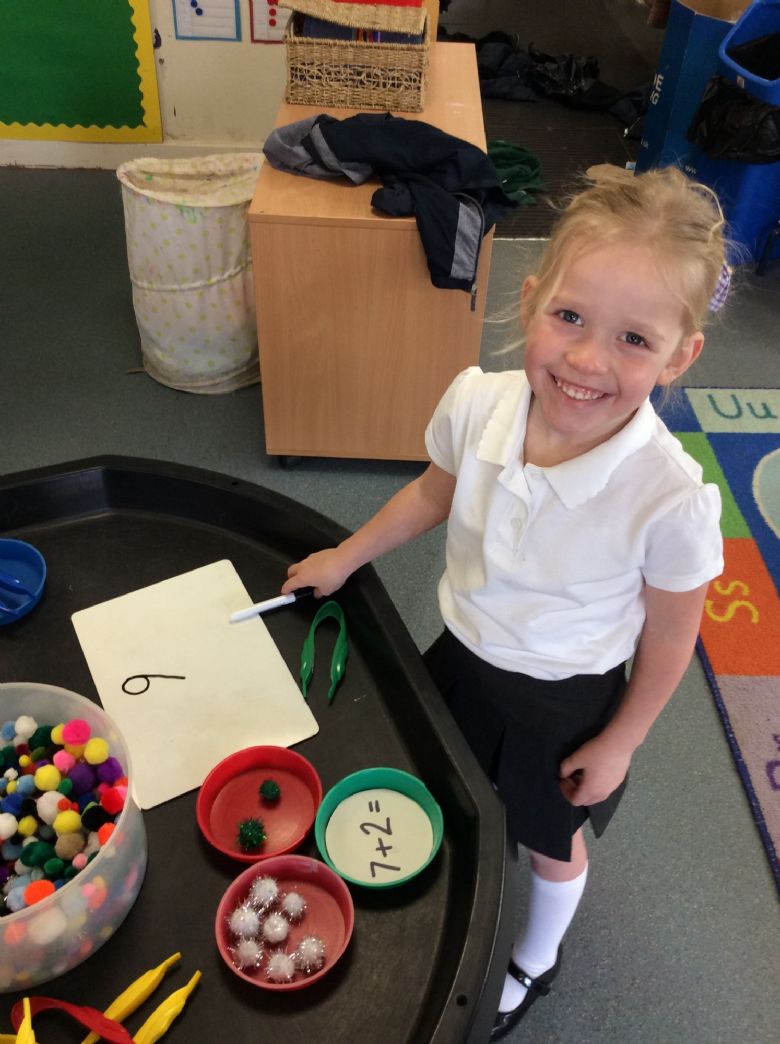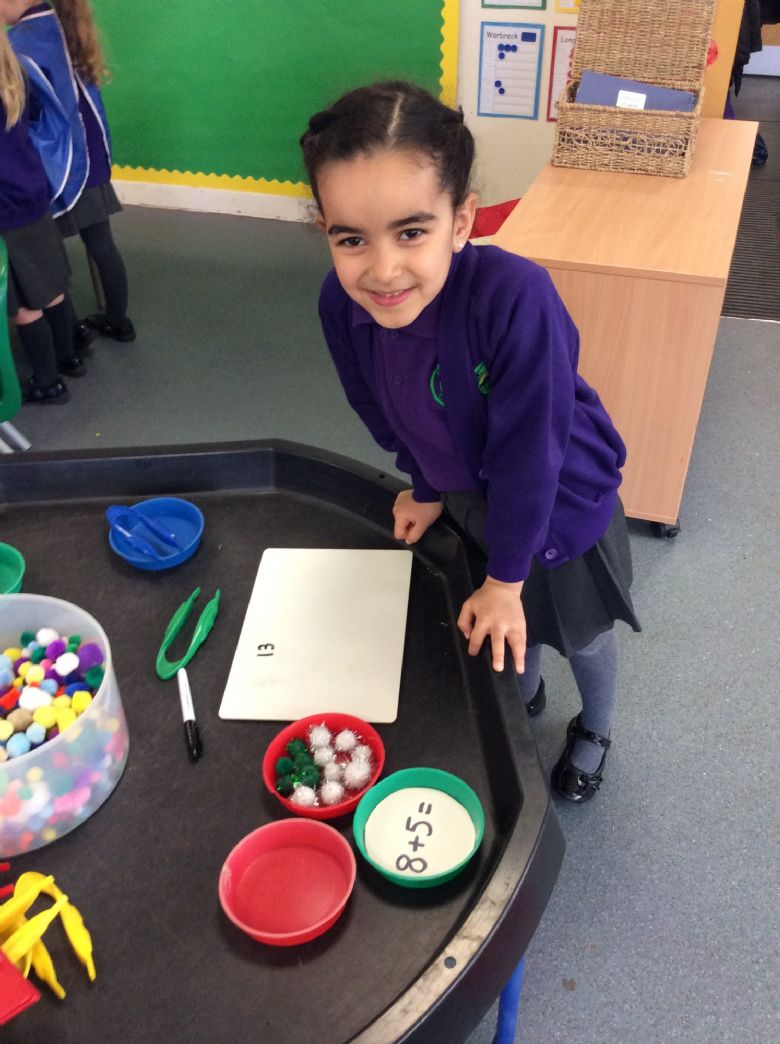 Some of us played number splat too...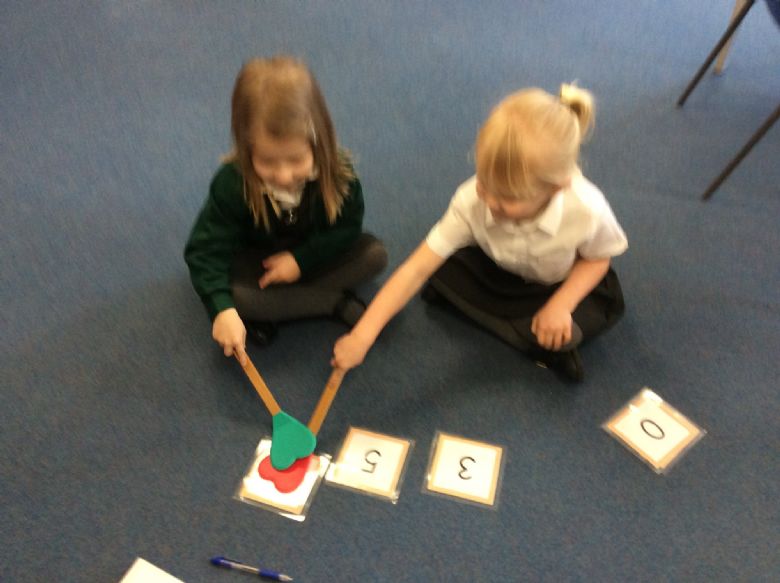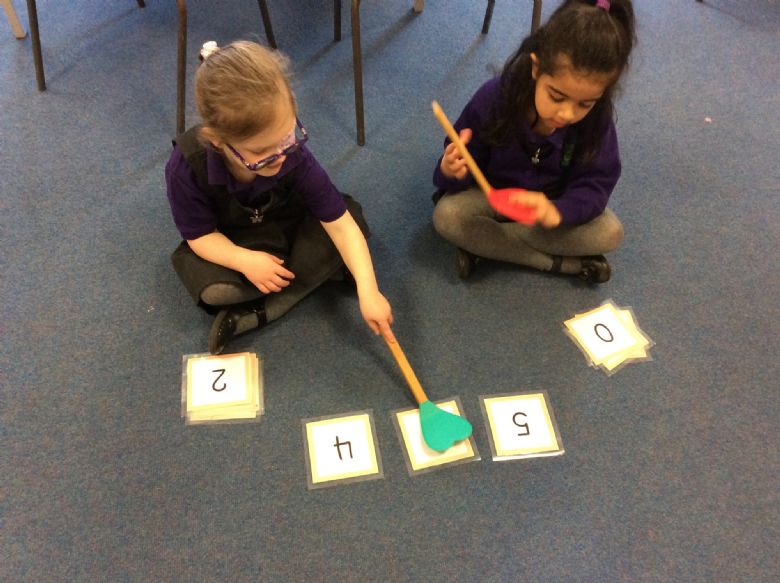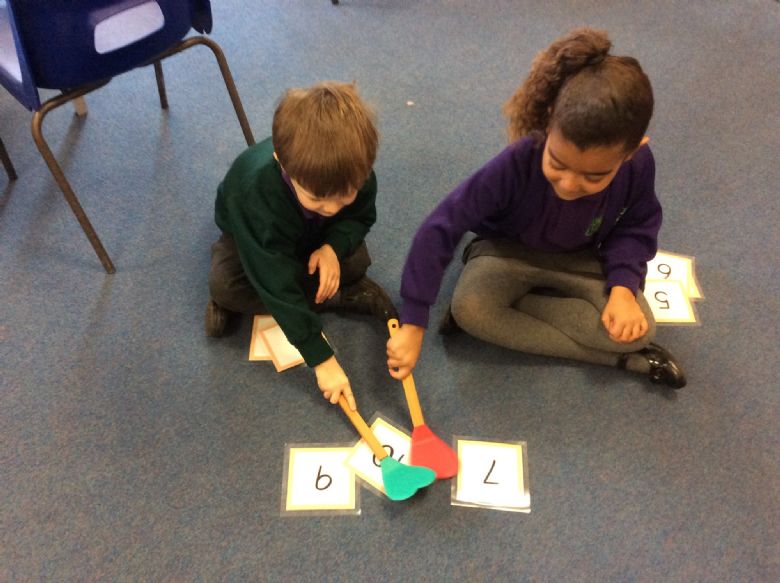 Chicks!
We now have 10 chicks, 8 boys and 2 girls.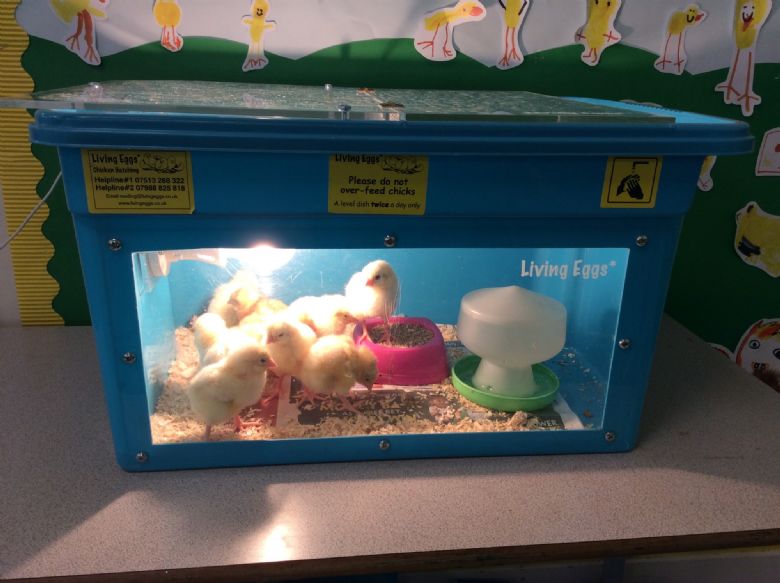 Baby Fletcher!!
This morning we were lucky enough to have a visit from Miss Rackley's sister, Emma and nephew, Fletcher. We have all been looking forward to meeting Baby Fletcher so were very excited. We sang 'Baby Shark' to him and had our picture taken...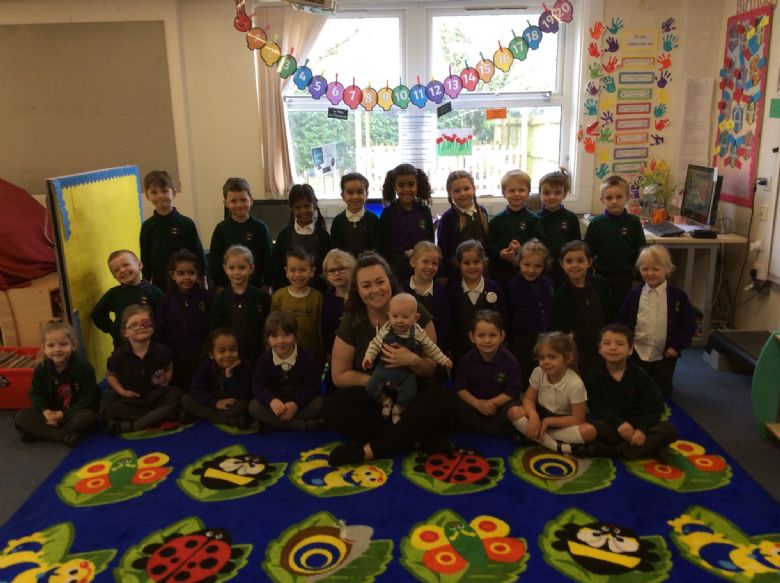 The visit leads us in nicely to our new topic for next term, New Life.
Superhero Clues
This morning a letter and a clue was delivered to us from the roof!!! Whilst we were learning our new sound in Phonics we heard footsteps above us and the saw things flying from the window. We jumped up and rushed outside to see what it was. The letter told us that we needed to get ready to save the day so we put our capes and masks on. We then followed the clues which led us to the different superhero capes and masks. We managed to find them all and put them in the bag to send back to Superhero Headquarters. It was so much fun! We all received a certificate to say well done. Take a look at our photo album for more pictures.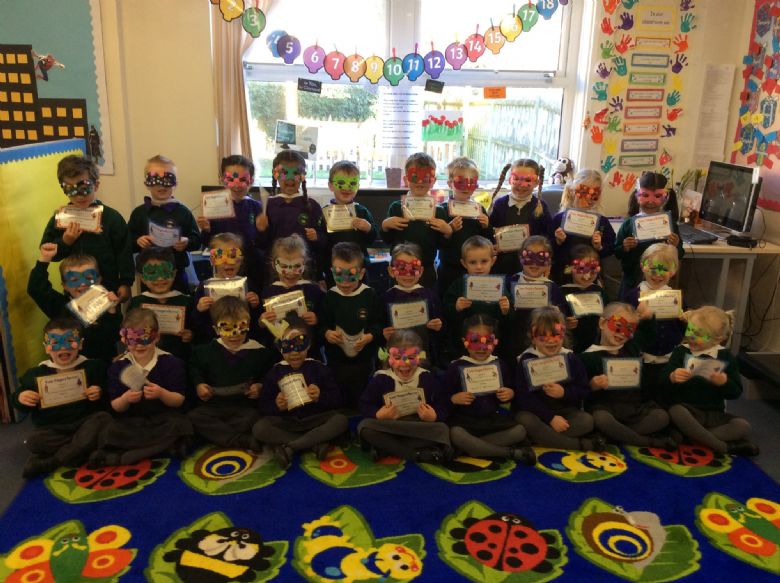 Superhero Letter
Look at the letter we received this morning,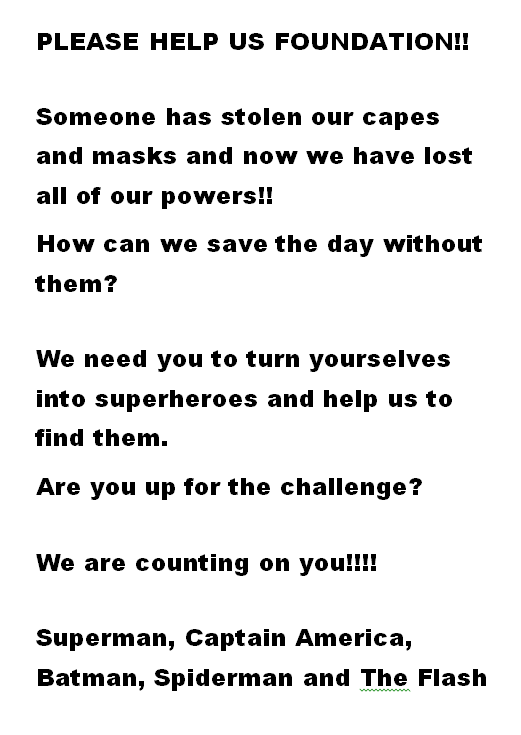 We are busy designing and decorating our own capes this week.
Christmas Party
What a great Christmas party we had yesterday! Thank you to all of the Mummies and Daddies who joined us. The children loved showing you around the classroom, the food went down an absolute treat and you cant beat a little bit of musical statues. Wishing you all a very Merry Christmas and a happy and healthy New Year!
Prickly Hay
I just wanted to say a MASSIVE well done to the children for their brilliant Prickly Hay performance. They danced fantastically, sang beautifully and did it all with a smile on their faces!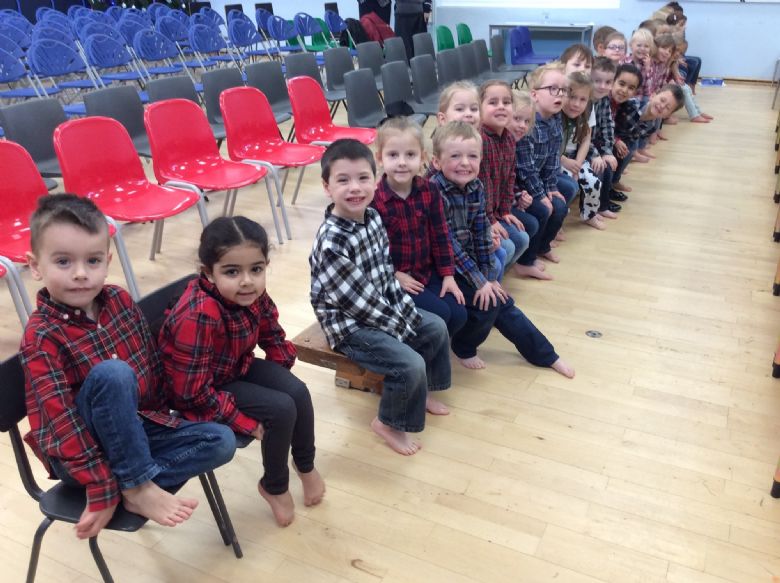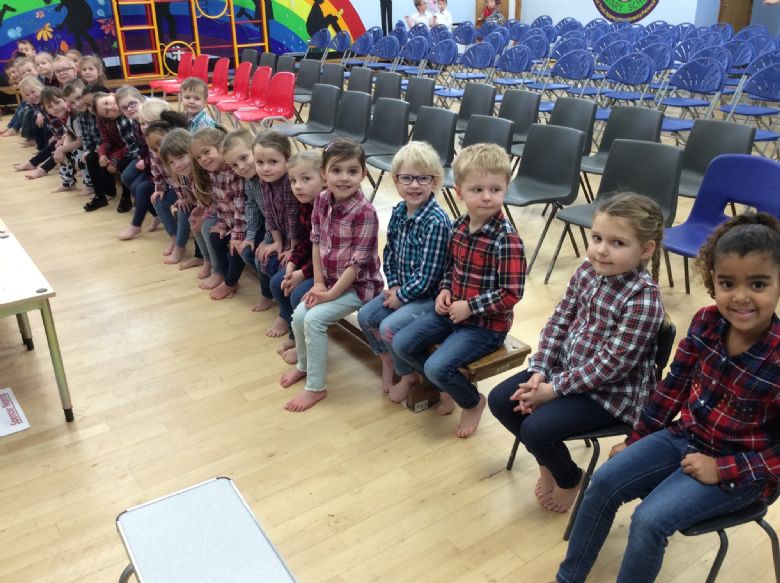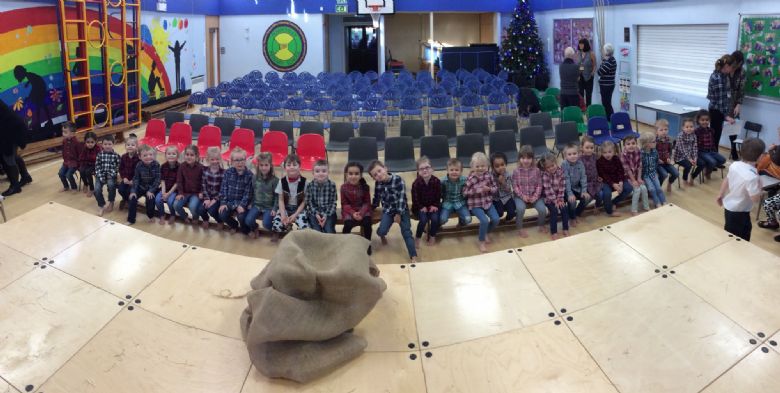 Christmas with Miss Gale
Today was Miss Gale's last day with Foundation before Christmas so today in Foundation we undertook a range of Christmas activities. We watched 'The Snowman' followed by some snowman activities such as snowman name writing and design your own snowman. We also made some Christmas door hangers for our bedrooms (which will come home before Christmas) and helped Father Christmas pack his bags by collecting the correct objects on lists. Our day finished with a nice festive story on the carpet.
It's beginning to look a lot like Christmas
What a magical morning we have had in Foundation Stage. We had a visit from Father Christmas who firstly made a lot of mess in our classroom and secondly left us some presents. We now have a Santa Cam on the window sill so that Father Christmas can see what we are getting up to and we have an Elf, who we've named Eddie, keeping an eye on us too!
In our classroom we have an Elves Workshop and Santa's Grotto and outside we have a Winter Wonderland. Take a look at our photo album to see...
Number Detectives
Thank you to all of those children who turned into Number Detectives over the weekend. Take a look at our numbers display...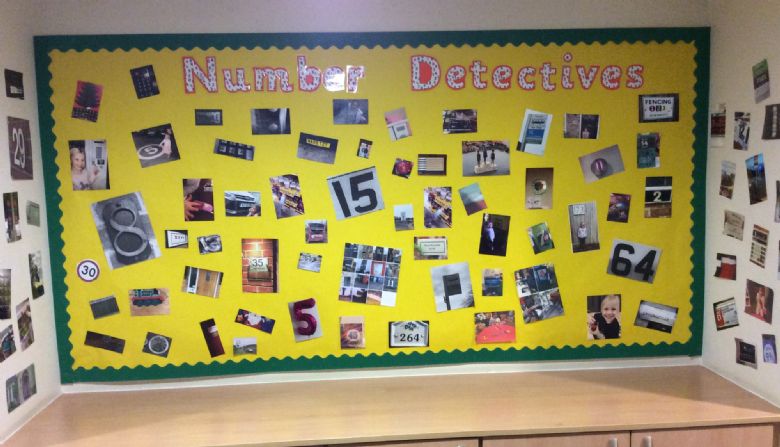 Community Day
Yesterday in Foundation we had a 'Our Community Day'. We talked about all the places we had visited before in Reading/Tilehurst- such as the park, train station, shops and restaurants. Throughout the day we used junk modelling to create our very own Reading buildings and put them on our car mat to play with. We also went in small groups around the local area and used our 'can you spot it…' sheets to find things such as post boxes, buses, signs and trees.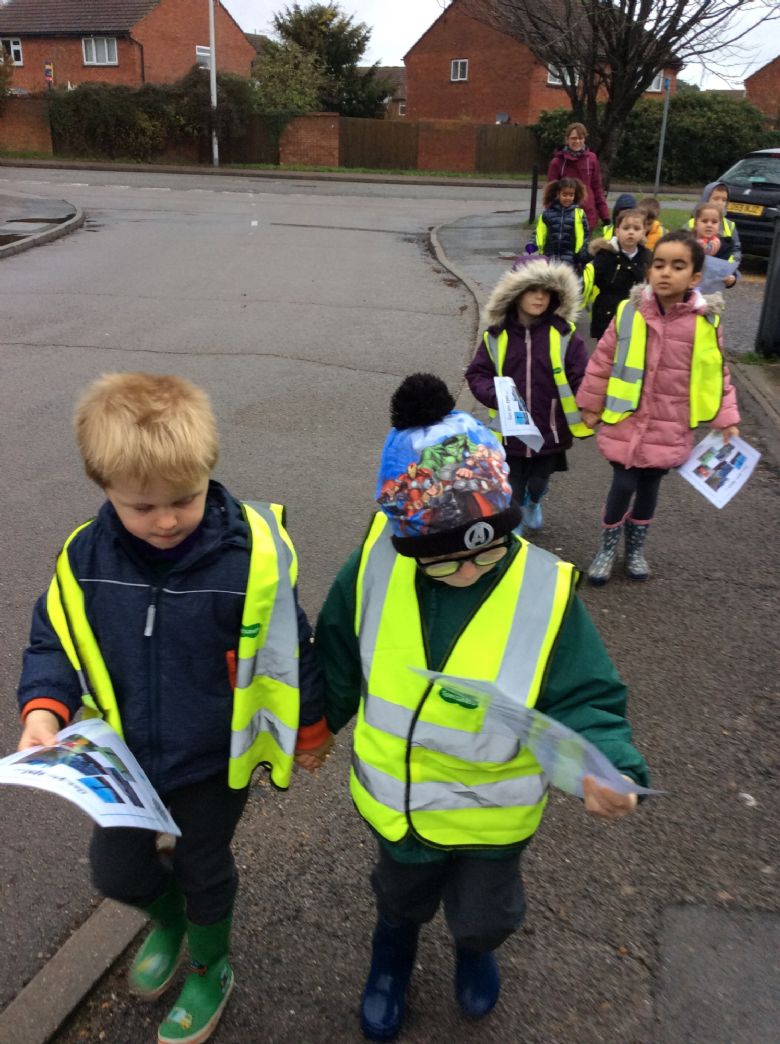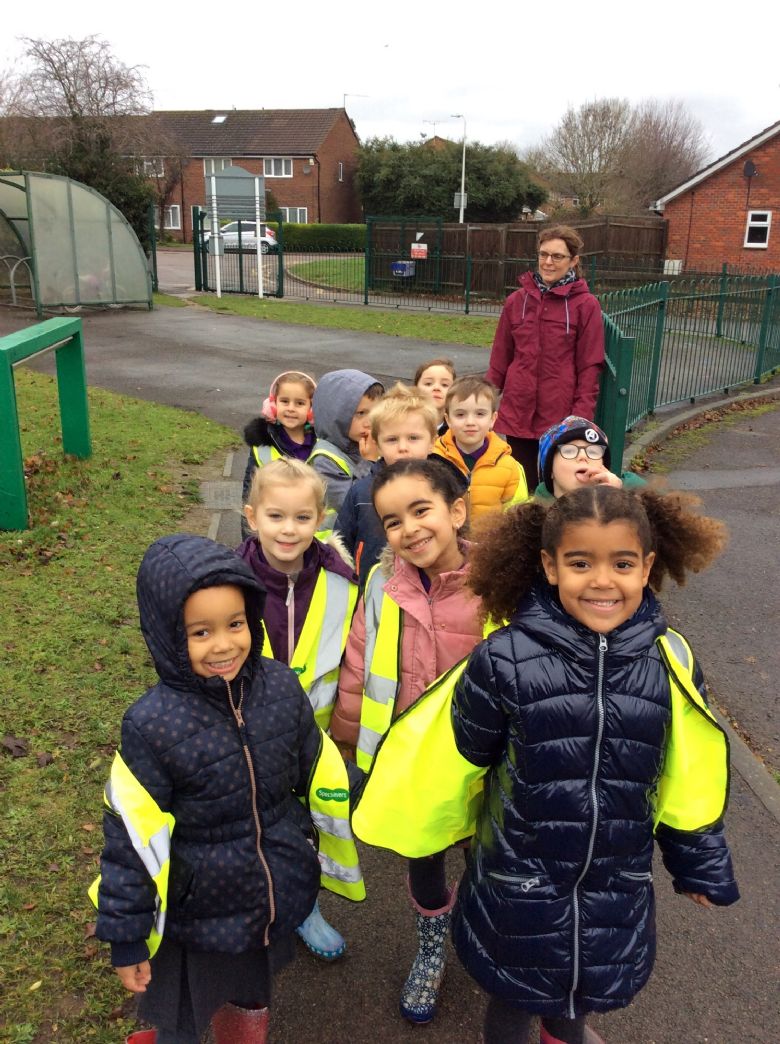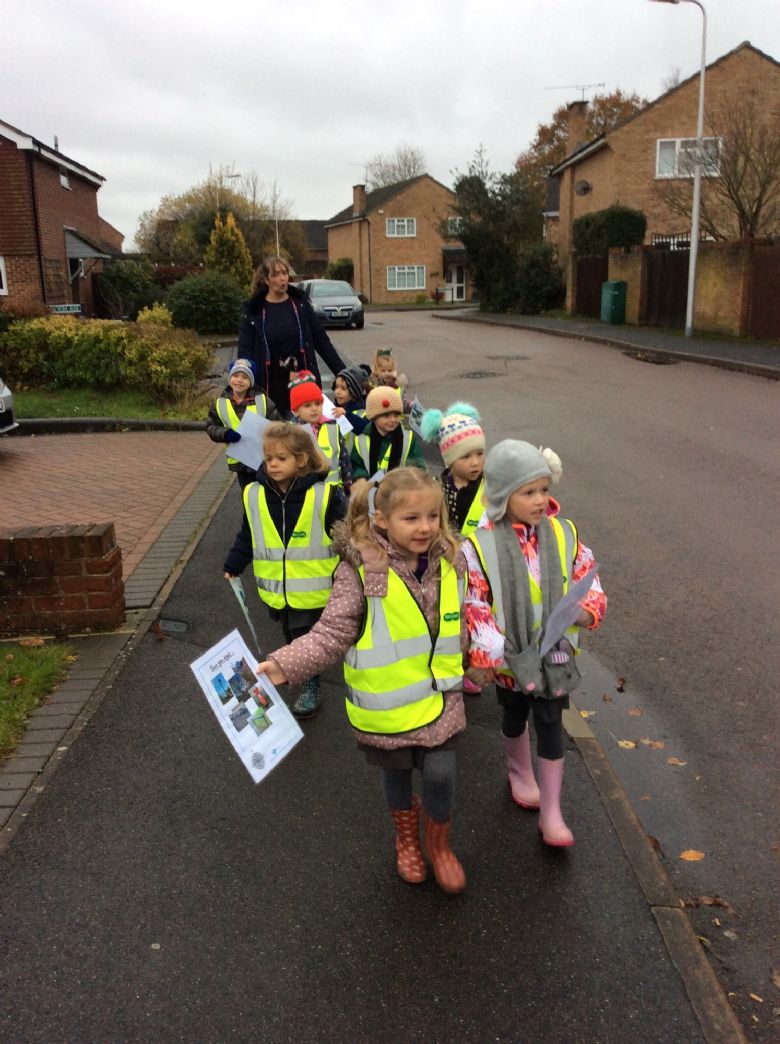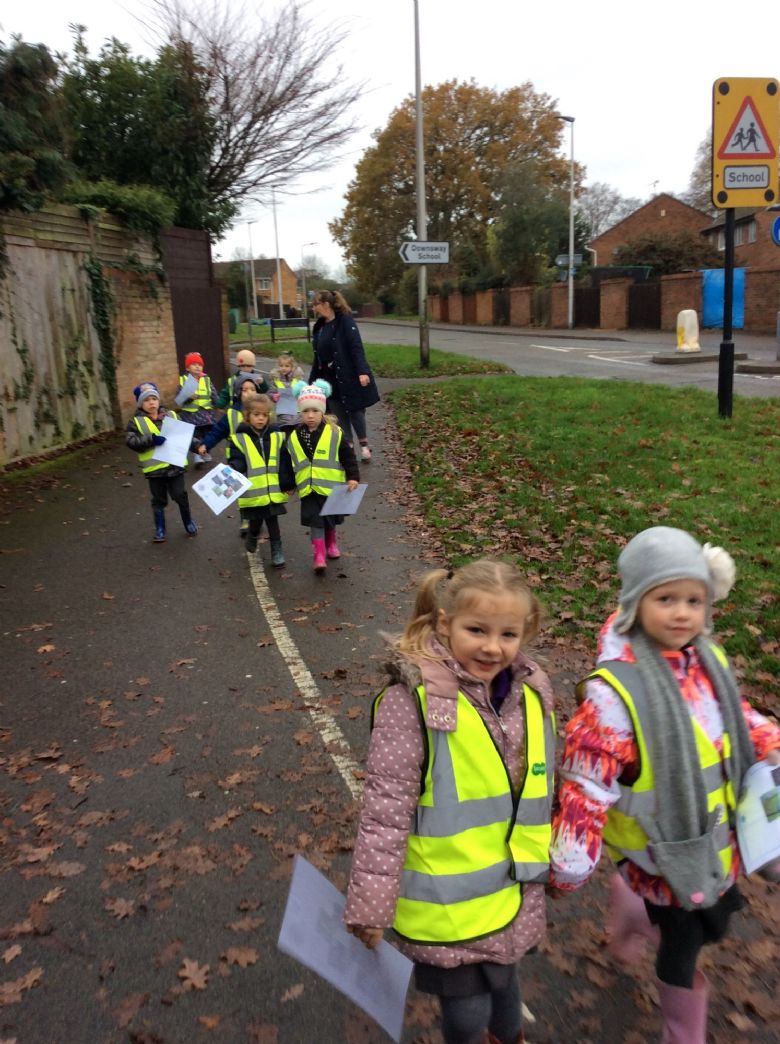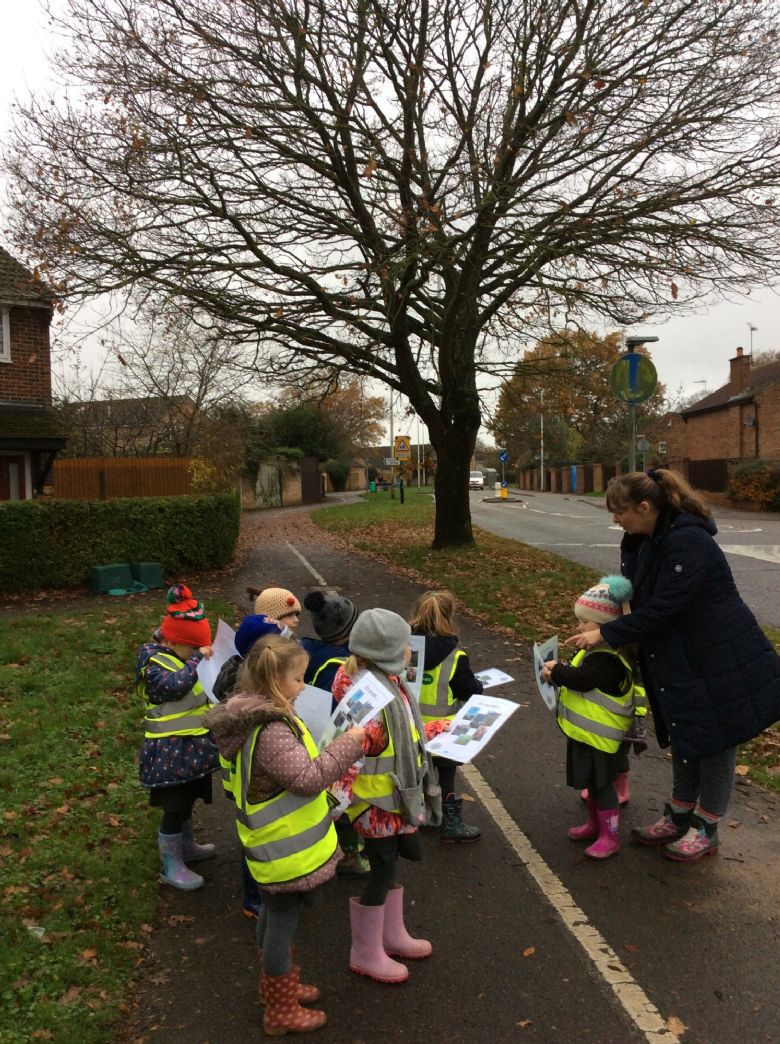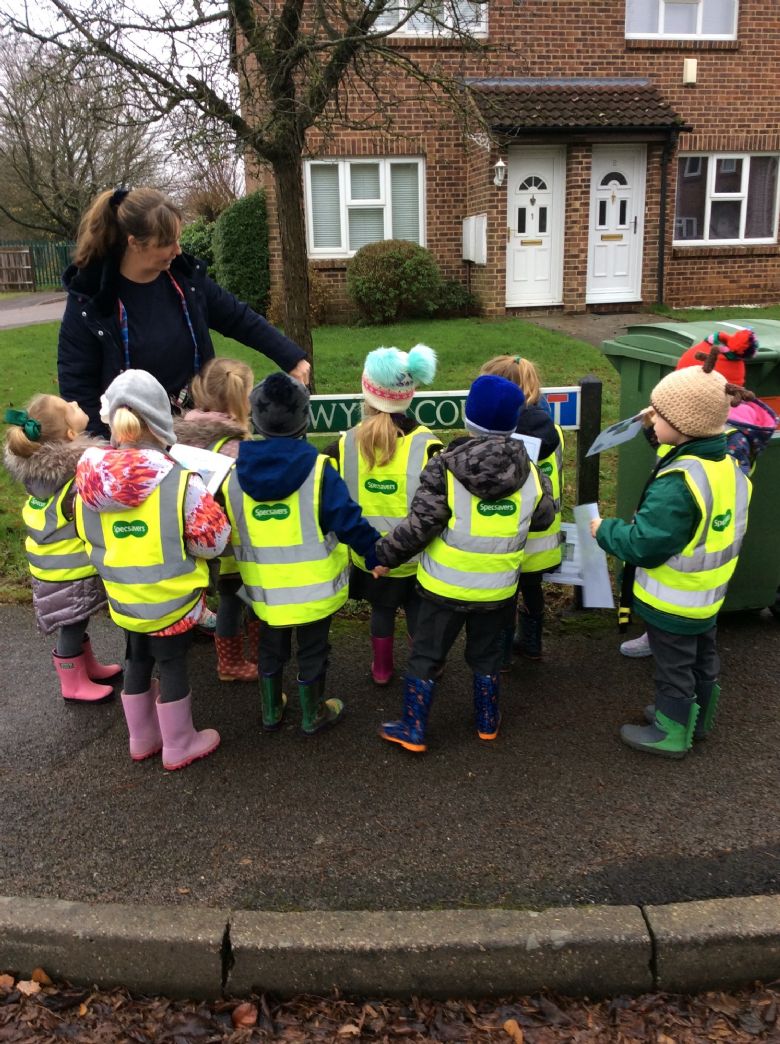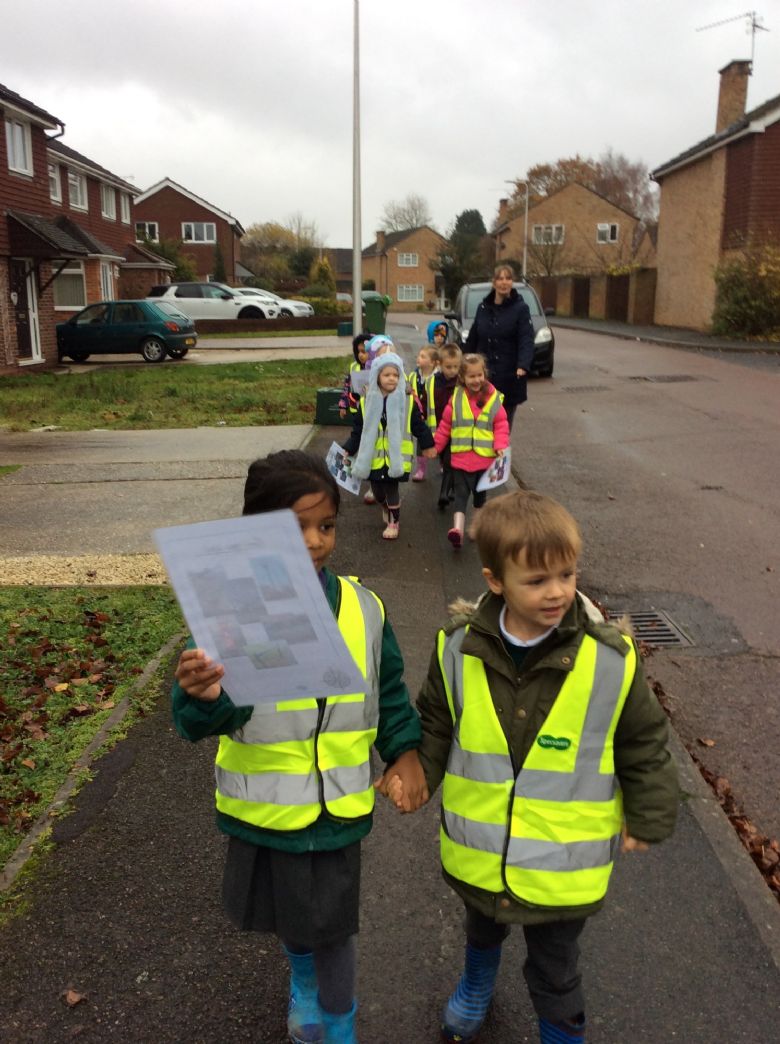 The Day Granny's Knickers Blew Away
This morning we were visited by Grant Koper who is the author of the book The Day Granny's Knickers Blew Away. He read his story to us, told us all about the book and then gave us the change to ask some questions. The children seen to enjoy the story - they were laughing throughout!!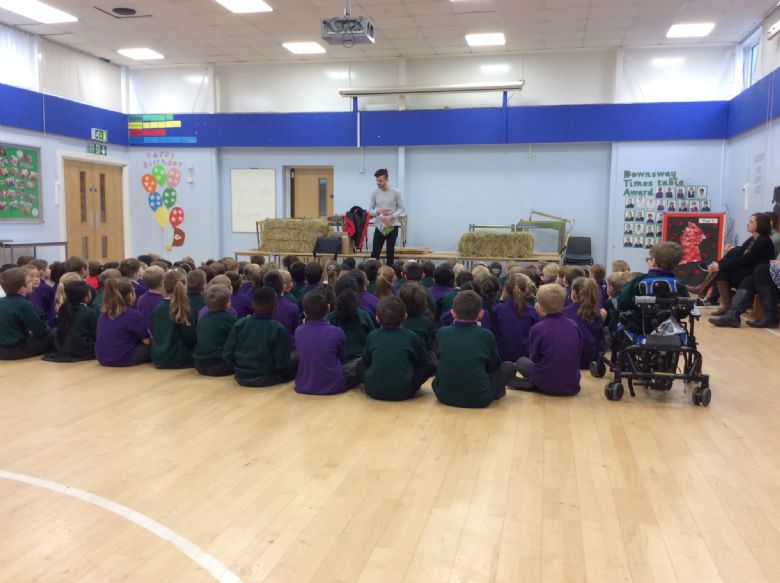 Science Experiment
We started a Science experiment today. We put 5 white flowers in 5 tubs of different coloured water. We are going to observe the flowers over the week to see what happens to them.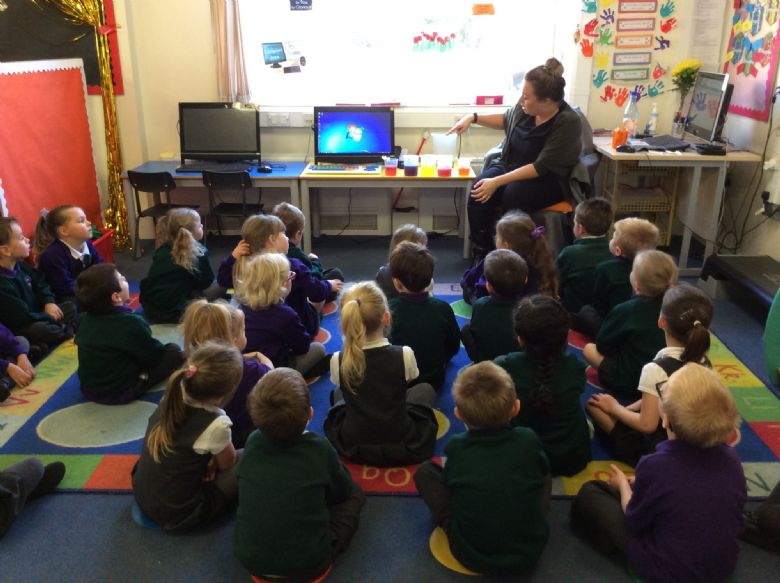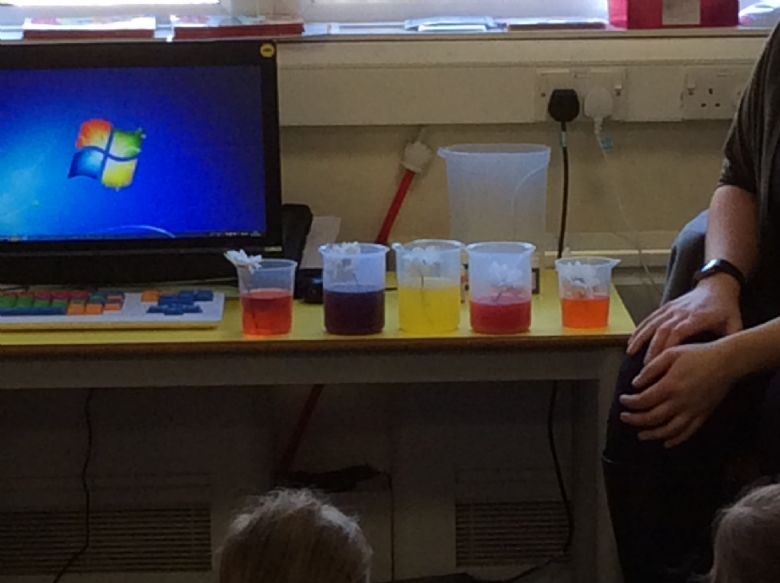 Jackson Pollock
This week we are learning about the artist Jackson Pollock. We spoke about his artwork and thought about what he might have used and how he might have created the bright, colourful patterns. We decided to use paintbrushes and watery paint to flick onto our paper. Take a look in our photo album to see how we got on.
Halloween / Autumn themed day
Today in Foundation we had a Halloween/Autumn theme. We completed a variety of activities such as silly soup, where you have to think of rhyming words, letter formation on spiders, pumpkin carving, autumn leaf maths and pumpkin playdough to name a few!
The children really enjoyed our circle time session where we talked about one thing we would magic, if we could magic anything in the world. We even used a magic wand to make our wishes!
There are some photos from the day in our photo album!
Ella's Kitchen and Rushall Farm
We had a fantastic, busy and fun-filled day on our trip to the farm! We enjoyed lots of different activities in the morning such as worm digging, petal picture making, seed planting and food tasting. We then enjoyed some lunch before taking a tractor ride to the animal farm. We fed chickens, turkeys, an alpaca and a donkey, stroked some sheep and saw some big pigs. We also had our picture taken on a tractor. Take a look at our photo album for the pictures.
Grandparents Day
What a lovely afternoon!! Thank you so much to everyone who came! It was great to have our classroom filled with so many people!
The children spent the morning decorating biscuits with icing and sprinkles and drawing lovely pictures for their Grandparents. We then welcomed lots of Grandparents into the classroom to enjoy doing learning activities with us. Once we had finished playing, we then shared some biscuits and a drink in the sunshine. Take a look at the photos in the photo album.
European Languages Day
Today in Foundation Stage we celebrated European Languages Day. We learnt a bit of information about France, Spain and Italy and some simple greetings in French, Spanish and Italian. During our learning activities we had some activities linked to those countries such as flag colouring, paper plate pizza making, croissant tasting, pizza take away role-play area and flamenco dancing! Take a look at our photo gallery for some pictures from the day.
Talk Like a Pirate Day
We have had a great day celebrating Talk like a Pirate Day. We started the day by learning some pirate sayings, for example, "Ahoy matey" means "Hello friend" and "booty" means treasure. We played with the pirate small worlds and in the 'pirate ship' outside which even had a plank!! We also played pirate bingo and pop-up pirate and coloured in some pirate pictures. Some of us decorated our own pirate flags and drew pirate faces. We also learnt a pirate song, "I'm a pirate, I'm a pirate, On my ship, on my ship, Looking for adventure, looking for adventure, On a trip, on a trip". We have had a busy day doing all things pirate – take a look at our photo album for some pictures.
Mark Making Day
On Wednesday we enjoyed taking part in lots of mark making activities with Miss Gale. We had a dough disco where we all followed the video and moved the dough in our hands and fingers. This helped to strengthen our fine motor muscles which then helps us to hold a pencil. We did some ribbon writing in the air with colourful ribbons and played a passing game where we had to pass the ball to the friend next to us without turning our whole body. We also used lots of mark making materials such as, chalks, glitter water and paint brushes, sticks in sand trays, shaving foam in the water tray, whiteboards and whiteboard pens, clipboards with pens, chunky felt tip pens and the Interactive White Board. Take a look in our photo gallery for some pictures...