Downsway win football trophy!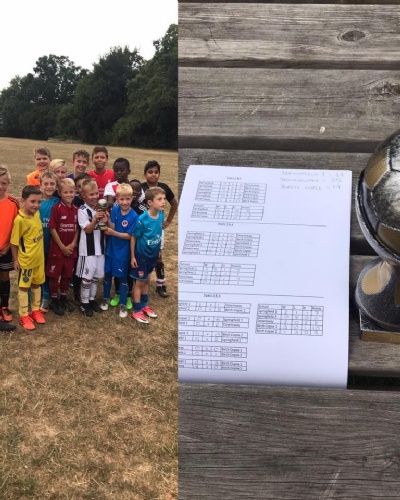 On Wednesday afternoon over 80 children from Downsway, Birch Copse & Springfield Primary Schools took part in the Byron Want Memorial Trophy held at Springfield School.

The event was held in memory of Byron Want, a pupil at Springfield Primary School, who sadly passed away after a courageous battle against bone cancer 2 years ago aged only 10 years old.
The school and his friends have been extremely busy finding ways in which to remember Byron and build a legacy for him & the football tournament is one of the events helping to raise money in support of the charities chosen by Byron's family – Sarcoma UK and Make-A-Wish UK.

The tournament was split in to 3 age groups with Years 1 & 2, 3 & 4 & 5 & 6 competing against each other to see which school would come out victorious after adding up all of the points won by each group.

Downsway's Year 1 & 2 team consisted of Blake W, Jack L, Jack S, Xavier W, Reo V, Finley H & Alex K - they played four games & won all of them, so they received 12 points for Downsway.

Downsway's Year 3 & 4 team consisted of Max H, Harley A & Matty P - they played three games winning two & drawing one, giving them 7 points in total.

Downsway's Year 5 & 6 team consisted of Alex B, Noah E, Eashan P, Ralfy, Rhys W, Nathan K & George H - they played five games, winning two, drawing two & losing one, giving them 8 points in total.

Overall Downsway received 25 points meaning that the Byron Want Memorial Trophy would be moving from last year's winners, Springfield Primary School & in to the trophy cabinet at Downsway.

Birch Copse ended on 17 points in 2nd place & Springfield on 11 points coming 3rd.

It was a real pleasure to see so many young children celebrating & remembering the life of Byron, who was such a brave & inspirational boy to so many people & we would like to thank the children & parents of Downsway Primary School for supporting the event.

Mark Winchcombe
Director - Procision Sports Academy